Interested in embracing astonishing forests and mountains while enjoying hot springs in winter? Just go for an exciting wild hot spring adventure that challenges your physical ability! Besides the numerous public bathhouses in hot spring scenic areas spread across Taiwan, there are some surprising—although more challenging—options hidden between forests and rivers, just waiting for you to discover. These wild hot springs gushing out of wild chasms are often situated in less accessible locations, a fact that helps to preserve their primitive beauty due to having fewer tourist visitors. In this issue, follow Dear b&b, forsake your mundane worries, and prepare to hike and climb. We are going to land on some of the most beautiful wild hot springs in Taiwan, to feel that steaming joy after a difficult trudge, and to relish the breath of Mother Nature.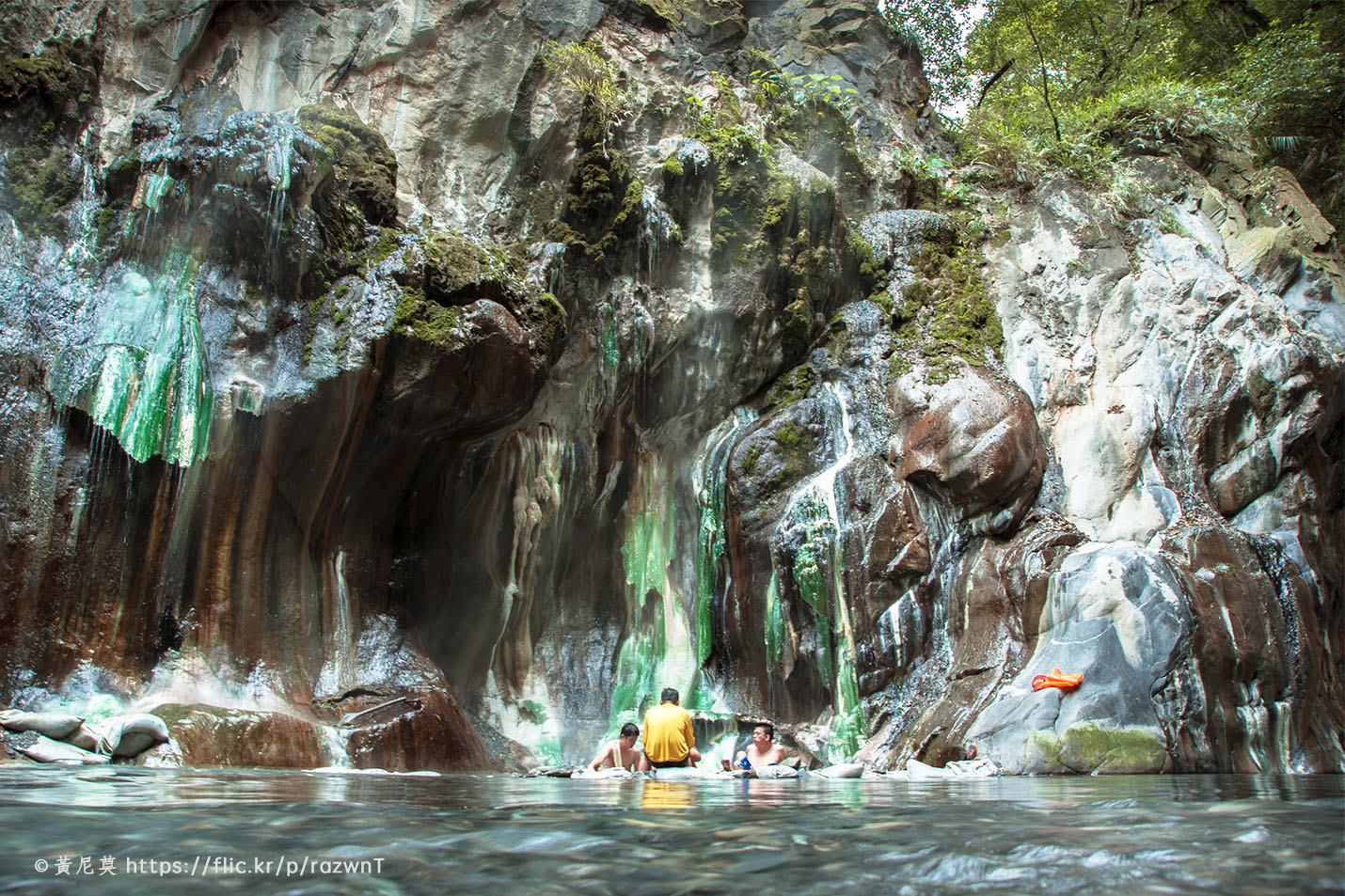 Lisong Hot Spring in Taitung: wander through the small town of Chishang and discover a wonderland surrounded by emerald-colored rocks
Speaking of wild hot springs, Lisong Hot Spring in Taitung, praised as the most beautiful wild hot spring in Taiwan, ought to be every hot spring hunter's first stop. The low-water season between November and April is the best time to visit. Different from most wild hot springs that gush out of cracks in the rocky ground below, Lisong Hot Spring pours down like a waterfall from above. To enjoy this wonderful hot spring, you need to complete a one-hour hike, gripping rope railings along the way. Especially on the later-half of the journey, cutting down to the river requires both of your hands and your full attention in order to climb down the nearly-vertical cliff. After you reach the riverbed, you will have to climb up more big rocks, rappel down once again, and cross the chilly river in order to behold the astonishing greenish rock faces which shine like emerald tapestries. The rocks around Lisong Hot Spring are constantly awash in spring water, creating a picturesque surface layer of crystallized calcium carbonate coating and greenish algae. After soaking in the soothing hot spring, you will certainly feel that your previous trudge has been handsomely rewarded.
After enjoying the hot spring, take a one-hour drive to either Chishang or Guanshan Township to experience the slow pace of small town Taiwan. While in Chishang, get a bento box at Quanmeihang, and have a firm rice bagel with homemade jam for dessert at Bike de Koffie nearby. Or try some fried tofu skin that is crispy on the outside and soft on the inside, and observe the tofu-skin-making process at Dachi Tofu Skin Shop. If you are still feeling energetic and looking for further activities, just rent a bike and tour around the town. The route from Dapo Pond, passing through Daguan Pavilion where you can overlook the boundless rice paddies to Wan-Xin Road, also known as Heaven Road, will relieve your mind and body once again!