A little fairy tale house in the forest
You traverse field after field of beautiful flowers and plants to get to your accommodations for the night; Lavender House, a pointy-roofed European style castle painted white and located in the well-known Lavender Cottage park area of Hsinshe Township in Taichung. Push open the wooden doors and you enter a fairy tale abode which might have been inhabited by a squirrel, or perhaps a white rabbit. The open layout with cathedral ceilings, the welcoming wooden furniture contrasts with refreshing whitewashed walls, and the big, fluffy teddy bear; it is as if Lavender House is your dreamlike home away from home, only deep in the woods.
Your amiable housekeeper hands you some comforting herbal tea as you appreciate the sweet scent of the fresh-cut yellow daisies on the table. To one side of the table sits a plate of handmade lavender cookies. Everything has been arranged just for your enjoyment. Observing the vital little bonsai plant sitting on the sunny window sill as you listen to the insects singing outside in harmony with the light music playing indoors. This moment is just so delightful and rich.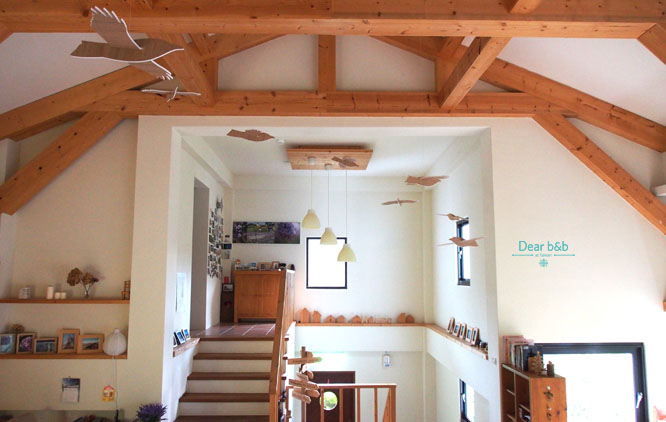 Meeting the most beautiful scenery, and the best people
The six rooms at Lavender House are named after various aromatic herbs. Each herb is a type of blessing, welcoming you in with fragrance and sunlight and ingeniously creating a comfortable rest environment. The intentionally simple interior design encourages travelers to spend more time lingering in the main hall interacting with other travelers. Travelers sit around the dining table enjoying their breakfast and discussing their travel plans. After the discussions wrap up, travelers may continue to enjoy a movie beside the fireplace together, as every corner of Lavender House is a great place to meet new friends.
In the evening, you might bring a volume of poetry into your room to read some poetry in the forest. Or you might listen to some of your favorite music, while the moon outside the window hums along. As you prepare for bed after bathing, you might rub some lavender scented cream onto your skin, slowly and gently helping to create a purple dreamscape.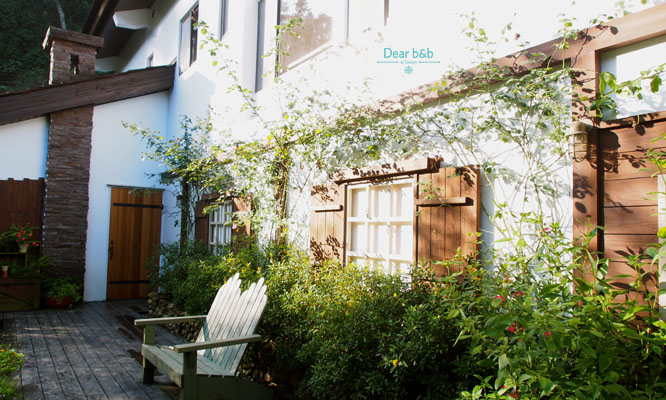 A purple wish, and a mind full of blessings
The next morning, the sunshine guides you out into the Lavender Cottage park area as you walk step by step along a mysterious garden path. Into the misty mountain, through the flower fragrance, beside the magical merry-go-round, you arrive at the tallest wishing tree in the entire forest. You lower your head and whisper your heart's deepest wish as the leaves of the tree quiver in the breeze as if tenderly granting your wish.
This must be a secret forest created and left in this mundane world by purple fairies! Meet the purest version of yourself while walking unhurriedly beneath the gentle blessings of the lavender plants.