White migratory birds perched in the intertidal zone
The irregular design of the building, like a white migratory bird preparing to take flight, is caressed by the southern summer winds. The bright, yellow beach and expansive ocean scenery in front of the guesthouse, the independent docks and the beautiful vistas of the intertidal zone; all of these ecological landscapes before your eyes fluctuate with the ebb and flow of the tide and the come and go of daylight. These elements combine into a veritable painting of priceless abundant vitality wherein, each moment, a new and moving vista appears.
Besides embracing the intertidal zone along the shore in front of the guesthouse, the name of Migrant Intertidal Guesthouse originates from hosts Amy and Ken's love of birds. They are both members of the Penghu Wild Birds Association and are passionate about everything relating to birds on the island. They also look forward to helping all their city-dwelling guests to feel as if they are returning to roost, to invite them to come back regularly to enjoy the intact natural ecosystem as well as their own oceanside home.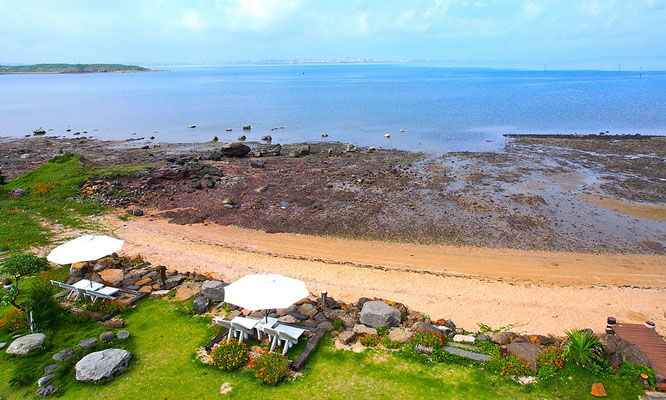 Earnest perception of the simplest blessings and happiness
"There is really nothing special about our home, as there's nothing of note in this area. All we have is our earnest perception and appreciation." In the words of Amy, Migrant Intertidal Guesthouse doesn't have any ornate decorations or elaborate designs, but is rather a return to primitive natural happiness, all of which is made possible by one's willingness to "perceive".
Open your mind and strive to perceive, then! Migrant Intertidal Guesthouse will help you open your senses and your mind, and to cultivate an even more attentive attitude toward experiencing nature. Perhaps it will happen in the morning, when welcoming the sunrise over the ocean, or perhaps when observing the A-New, the guesthouse dog, running down to the ocean to frolic excitedly in the water. Or perhaps it will come to you in the morning over breakfast when you experience the taste of Zhongji baked sesame seed-coated cakes for the first time. In any case, you'll experience so many moving moments in this place.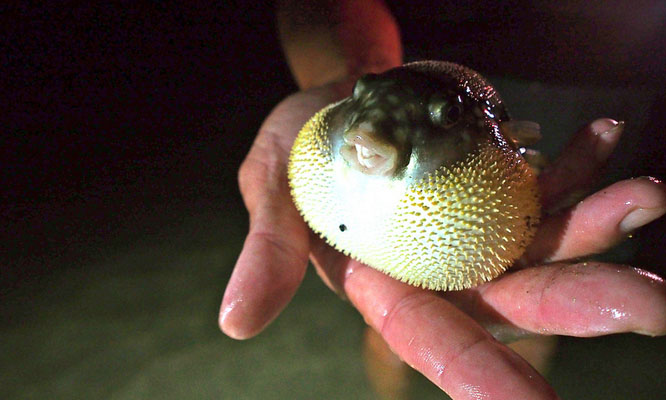 Nighttime exploration of intertidal pools!
Yet the most unforgettable experience on offer at Migrant Intertidal Guesthouse is surely exploring the intertidal pools in the pitch-black darkness of night. Follow Ken on a magnificent intertidal nighttime adventure! Holding your flashlight, you put on shorts and sandals and, stepping over the vines on the beach, you enter the knee-high tidal pool. You catch sight of bright, silver clove fish as their slender bodies dart to and fro beneath the surface. They bump into your legs as you pass through and, before you have time to get used to this clove fish encounter, to your delighted surprise, Ken picks up a plump, round blowfish, spines protruding at all angles. If you make the trip to Migrant Intertidal Guesthouse, you simply cannot pass up the opportunity to go out with Ken to explore the abundant ecological wonders of the intertidal pools. It will be a meeting with nature that you won't soon forget!
It's hard to imagine that, after leaving the intertidal pools and returning to the guesthouse, yet another surprise awaits: a bowl full of a summer-season delicacy - fresh oysters! You use tongs to hold the shells of the oysters while you remove the rich milky flesh. No matter how much you eat, you never get tired of these oysters, especially when washed down with a cup of draft beer. How delightful!
Life is simple at Migrant Intertidal Guesthouse, yet the experience is rich and plentiful. For city-dwelling travelers who are weary of the bustle of everyday life, it is a true blessing to return to such a place, like migratory birds returning to roost each year. After visiting such a place, with spirits revitalized, you can set off to achieve your next big goal.