High-Quality, Magazine-Like Stylish Living Space
Following the direction the potted plants give to you, you step on the wood floor, passing the shared working space and coming to a chic living room. A blackboard wall with doodling of travel inspirations adorns this space with a carefree industrial touch. On a marmalade-colored leather sofa or a comfortable designer leather chair, you are brightened by the sun coming through the large windows. Walking to the big refrigerator in front of a red brick wall, you can pour a glass of lemon water or brew a cup of coffee for yourself at the island. Various pieces of high-end equipment and appliances can be found in the island in the open kitchen, such as kettle and oven from Italian brand SMEG, and toaster oven from Japanese brand BALMUDA, all of which not only increases the living quality but also provides surprising daily-life experiences. Flipping through the fashion magazines on the wall, you feel inspired by the trendy ornaments in the corner. Choosing one's mode of travel also becomes a demonstration of one's attitude toward life.
The two hosts, Christopher and Michael, carefully choose the designer brands from different countries; even some of the wooden furniture is designed by them and completed by craftsmen. Every choice made out of their taste and aesthetics leads people to walk in a life as the ones displayed in home design magazines. At night, under the languid yellow light, opening a bottle of wine, you can pleasantly sink into the sofa and watch films on the huge TV screen. What's more, before sleep, you can choose a fragrant essential oil candle to take back to your room and request a Dyson's deluxe hairdryer. All these details make girls smile with satisfaction, and impress whoever stays here.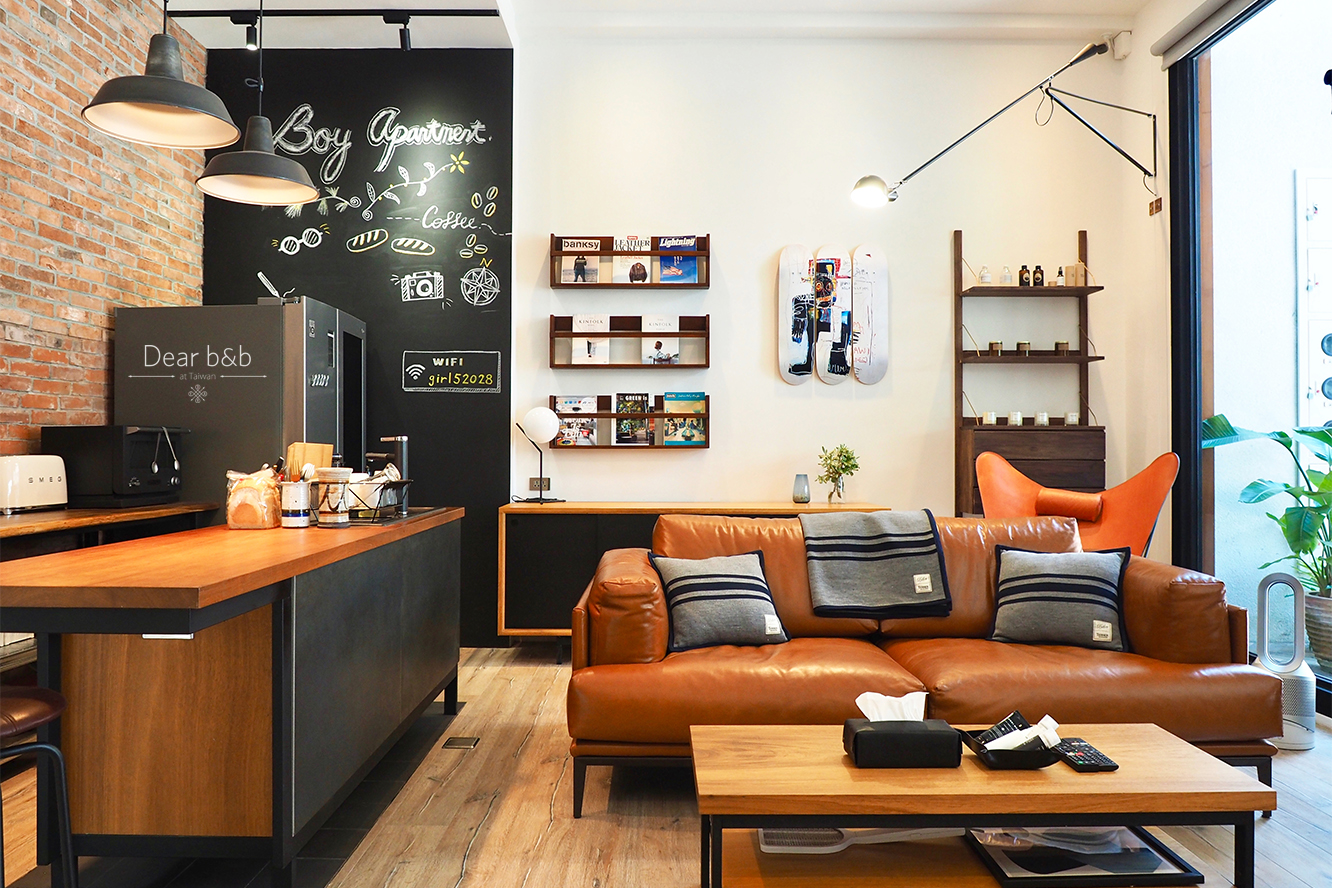 The Showroom-Like Double Rooms: Comfortable Life on Display
The Double rooms from the second to the fourth floor can be reached by elevator or on foot. Every room is a work of the aesthetics and ideas of the hosts. The gorgeous designer furniture and leather accessories made by the hosts are installed throughout the room, which provides a simple wooden backdrop. Potted plants and posters decorate the space, and a selection of everyday items is generously provided for you to use. For example, Kimu's multipurpose table mirror with a 360-degree shaft which hides no blind spot while girls delicately put on make-up, Hunter Douglas's Silhouette shade which can be slightly adjusted according to one's liking, be it half-shading or complete-shading mode. Moreover, there are a lamp with three modes of color temperature for the choice of the most comfortable circumstance, and a wooden planet-shaped essential oil diffuser. Staying in the room is like exploring a showroom, and you savor this experience slowly, enjoying a life with grace and warmth. If you are fond of any item in the room, you can consult the hosts to purchase and bring a trophy of this trip home.
Visiting the Boutique Area in Hualien City
Boy Apartment is in an excellent location. Within walking distance around the property can be found a variety of boutiques such as unique coffee shops, bars, diners serving brunch and select stores for serious shoppers. At night, after a shower, with half-dried hair, you get dressed to enjoy a tipsy night with your besties at a stylish antique bar nearby. Or in the early morning, playing a lively song through a Bluetooth speaker, you visit the neighborhood for a big, relaxing brunch.
Boy Apartment is created out of consideration for every feminine heart. Going through every detail in it, you appreciate the perfect imagination given to you by "Boy" with comfort and spontaneity. Boy Apartment writes a new chapter in the story of Hualien City and proposes a new idea of quality.