In the cyclical course of time, embrace the fragrance of the forest
Collect a slice of anticipation to accompany you, and pick up a piece of forest fragrance along your way. Following the fresh, autumn road leading to 7 Days 4 Seasons B&B, your anticipation for the experience ahead fills your heart with warmth. You park the car at the B&B, right beside county highway 151. Climbing the stairway lined with verdant green, you spot black-framed windows gleaming yellow in the smooth cement exterior walls. You grasp the cool metal of the industrial-style door handle and, pushing open the main doors, you instantly feel like you've stepped into a forest greenhouse. Green potted plants hang from the ceiling like the hair of the forest, dried flowers on the walls hint of the sunshine in Southern France, while the long, dark-brown wooden table and hanging Edison light bulbs create a genial environment. Cultural and creative design items and name cards exhibit a handmade lifestyle. Choose a book you love from the shelf, seat yourself in the retro chair of your choice, and wait for afternoon tea to be served. Lubi, the guesthouse cat, rubs affectionately up against you while you look up to behold the gorgeous scenery outside the window.
7 Days 4 Seasons is owned and operated by May, and was constructed with her own two hands. She is also the owner of Little 4 Seasons Zero guesthouse and, formerly, 7 Days Away guesthouse. 7 Days Away was at one time the best brunch spot in Taichung City, but sadly had to close when the lease expired. Nobody could have anticipated that the closure would facilitate the evolution which would become 7 Days 4 Seasons. May has a strongly creative spirit and infused 7 Days 4 Seasons with her own meticulous concept of beauty. After her father bought this old house, she began drawing up building plans, including blueprints for plumbing and electricity, for water- and moisture-proofing, to interior decorations - she handled it all herself. Step by step, she spent a full year to realize her goal and create a space brimming with stories and lessons learned.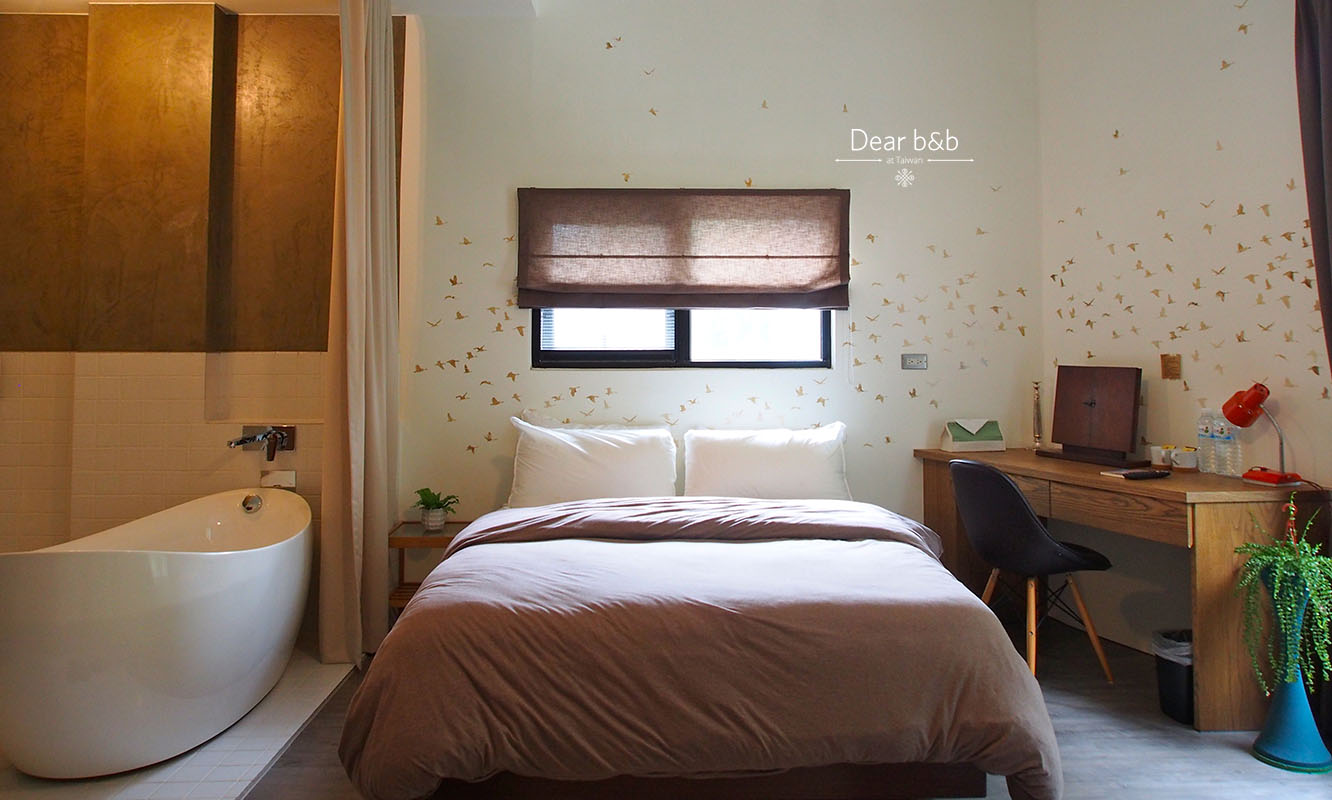 12 months of beautiful scenery
In the middle of the white Room Jan. sits a blue chair where you can rest and look out through floor-to-ceiling windows at the lush green environment. Room Feb. is the most elegant, with the constellation of pegasus hanging on a wall under sunny yellow lighting to lift you up towards your dreams. Rooms Mar. 1 and 2 are the beloved time of the spring, with intertwining greenery and a sky full of birds that soar around you like graceful butterflies, whispering the secret of happiness.
Room Apr. belongs to the little Bambi deer which run quietly out of the forest and wait in the corners for you to find them. How many can you count? Mature deer antlers hang in Room May; this room is your tranquil safe harbor. Room Jun. is accentuated by a beautiful antique screen, behind which lies a bathing space where time seems to stand still.
In Room Jul. 1, you find more time for celebration. Adorned with multicolored hanging banners, it is a place where you can fall in love with summer. In Room Aug., the ornate iron window grate writes you a love letter. In Room Sep., dance a waltz in the green gardens. In Room Oct., take a flight on the fall breeze. In Room Nov., light the celebration lights and embrace your dreams together to warm the winter scene. In Room Dec., it is snowing indoors while the fog rolls in outside the windows. The green in the mountains becomes as dense as an ocean, and I curl up in your embrace and give thanks for the magnificent gifts of the four seasons.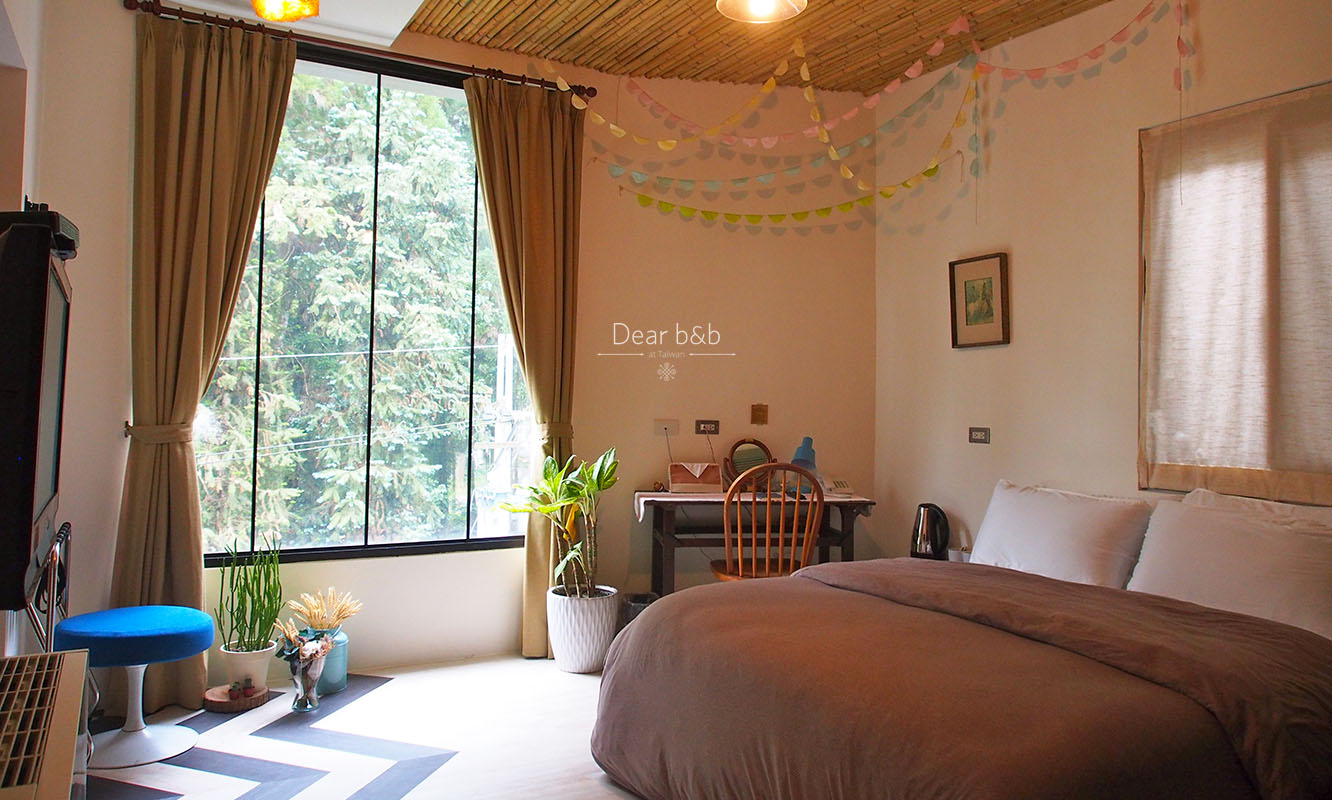 An entire day of heart-warming delicacies
Beyond the rooms, every meal at 7 Days 4 Seasons is like a delicious feast full of gratitude.
At three in the afternoon comes that sweet time where the gentle sun shines in on an angle. Order a plate of crispy yet soft waffles with ice cream, or oolong tea flavored chiffon cake with salted caramel icing; every bite tastes of romance. Alternatively, order a portion of fragrant lemon pound cake and savor the soury sweetness while you sip at a rich, hot latte. As you lick a dollop of cream from your lip, you feel like a girl playing on a windy swing, as a happy smile spreads across your face.
At ten o'clock in the morning, you get out of your lazy bed and head gracefully downstairs. The air is filled with the freshness of nature and the enchanting fragrance of coffee as you prepare to eat a tasty brunch. The soft French bread tastes delicious with handmade cinnamon-apple or maple-walnut jam, every bite transforming into sweet happiness in your mouth. Or choose the classic 7 Days brunch; light and tasty scrambled eggs, bacon, ham, sausage with bread or a scone for an elegant, energizing English breakfast. The fullness of the greenery outside the window and the flavors on your tongue are all incomparably fine.
At 7 Days 4 Seasons, every month, every room, every moving moment is a planet a small universe. In the cyclical course of time, we can find the scenery that belongs only to us and create a new story. The spring fills your imagination, while the summer moves your emotions. The fall makes your passion soar, while winter's embrace fills you with fond memories. The best times are had at 7 Days 4 Seasons.